Information provided by the International Sheep Breeders of North America:
The Icelandic sheep is one of the world's oldest and purest breeds of sheep. Throughout its 1100 years of history, the Icelandic breed has been truly triple-purpose, treasured for its meat, fiber and milk.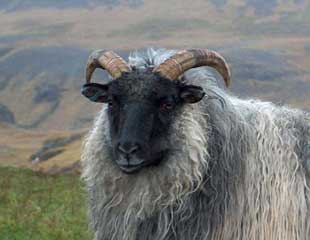 The Icelandic breed is in the North European short-tailed group of sheep, which exhibits a fluke-shaped, naturally short tail. To ensure the continuing purity of the breed, tail docking an Icelandic will disqualify it from being registered in North America. Icelandics are a mid-sized breed with ewes averaging 130-160 pounds, and rams averaging 180-220 pounds. Conformation is generally short legged and stocky. The face and legs are free of wool. The fleece is dual-coated and comes in white as well as a range of browns, grays and blacks. There are both horned and polled strains. Left unshorn for the winter, the breed is very cold hardy.
A gene has been found in the Icelandic breed that causes multiple births of triplets, quads, quints and even sextuplets, if the ewe carries two copies of the gene. One copy of the gene causes a milder increase in fertility, resulting primarily in a higher rate of triplets. The Thoka gene, as it is called, is named after the first ewe known to carry the gene. It is similar to the Booroola gene in the Merino sheep.
Ewes are seasonal breeders, most coming into heat in late October. They will continue cycling until spring if not bred. Rams are sexually active year round, and the ram lambs can start breeding at 5-6 months.
Lambs mature early and ewe lambs commonly lamb at 11-12 months of age. Icelandic ewes are bred as lambs, and many remain productive until age 10 or longer.
Prolificacy is quite good, on average 175-220%. Triplets are not uncommon and many Icelandic ewes are very capable of nursing triplets without assistance.